Film Resources for the Classroom
Here are a selection of films on the Civil Rights Movement and related struggles for civil rights and self-determination. Although we recommend all the films below, we have placed a star icon  ★ next to the films that we most highly recommend if you do not have time to preview all of them yourself. For the ★, we have limited ourselves also to the films that we knew were most useful for the classroom. Also see book, audio, and web resources.
  A. Philip Randolph; For Jobs & Freedom
Ask most people who led the 1963 march on Washington and they'll probably tell you Martin Luther King Jr. But the real force behind this event was the man many call the preeminent Black labor leader of the century and father of the modern Civil Rights Movement, A. Philip Randolph. Randolph's career began during the Harlem Renaissance as a radical soapbox orator and journalist, who was brought to help organize the Brotherhood of the Sleeping Car Porters. After a bitter 12-year battle, the porters won the first labor contract with a Black union. During World War II, Randolph's threat of a march on Washington forced President Roosevelt to ban discrimination in defense industries. After the war, he called for Blacks to resist the first peace-time draft until President Truman signed his 1948 executive order desegregating the military. In 1963, Randolph called again for a march on Washington. 86 min., 1996, WETA, California Newsreel. HS
All Power to the People
Award-winning documentary on government repression of activist groups in the 1960s and 1970s, with a focus on the Black Panther Party. Uses government documents, rare news clips, and interviews with both activists and former FBI/CIA officers. Excerpts useful for high school class. 115 min., 1997. HS
Amandla! A Revolution in Four-Part Harmony

Amandla! tells the story of black South African freedom music and reveals the central role it played in the long battle against apartheid. Amandla!'s focus is on the struggle's spiritual dimension, as articulated and embodied in song. The film brings dozens of freedom songs to the screen, drawing upon original recordings and thrilling, sometimes impromptu live performances by celebrated South African musicians and nonprofessionals alike. 2002. HS
And the Children Shall Lead

Danny Glover stars in this drama, based on a true story. In 1964, segregation is a reality in Catesville, Mississippi, but a 12-year-old Rachel doesn't notice it because she has many white friends. When a group of civil rights activists come to town, the tension between black and white citizens grows. It's now up to Rachel and her friends to persuade the adults to overcome the barriers that divide them. 58 min., 1985, Wonderworks. ES
Apartheid Revisited: Confronting History
This video follows a group of American students on a trip through South Africa as they explore the history of this fascinating nation. The students learn about political struggles that shaped South Africa, and important roles played by young people in the evolution of this country. The journey begins at the National Youth Day Celebration on the 20th anniversary of the Student Uprising against apartheid. The students then travel from Johannesburg south to Durban and down the Garden Route to Capetown, visiting key landmarks and talking with veterans of the movement about the political and social causes of apartheid. The students also visit a traditional Zulu village, explore museums, and meet with student leaders of today to exchange ideas and experiences. With beautiful location footage and interviews, viewers share in this journey as the participants compare the Civil Rights movement in the U.S. to the Freedom Fight in South Africa. Teaching guide available. 38 min, 1997, Cambridge Education Production.
At the River I Stand

Stirring historical footage shows the community mobilizing behind the strikers, organizing mass demonstrations, and an Easter boycott of downtown businesses. The film recreates the controversies between King's advisors, local leaders, and younger militants, which led to open conflict. The film recaptures the driving sense of foreboding as King delivered his final "I Have Been to the Mountaintop" speech. 56 min., 1993, DVD, California Newsreel. HS
Autobiography of Miss Jane Pitman 

The story of the life of a black Louisiana woman, from the time of her childhood when she was enslaved in the pre-Civil War South to 1962, when she witnesses the birth of the Civil Rights Movement at the age of 110. Based on the book by Ernest J. Gaines and starring Cecily Tyson and Barbara Chaney. 120 min, 1973. HS
Battle of Algiers

Crisp compelling drama about the guerilla revolt against the French, waged by Algerians starting in 1954. Shot on location with a mixture of actors and real-life participants in the conflict. Provides viewers a picture of colonialism in Algeria and resistance. 122 min., 1965. HS
Black American History Series IV: Civil Rights
The fourth volume of the series takes an in-depth look at the Civil Rights Movement. See the struggle for equality as famous figures from our past fought for their rights and the rights of others. 1998, MS.
Blue-Eyed
Jane Elliot leads a group of 40 teachers, police, school administrators, and social workers in Kansas City—Blacks, Latinos, whites, women, and men. The blue-eyed members are subjected to pseudo-scientific explanations of their inferiority, culturally biased IQ tests, and blatant discrimination. In just a few hours under Elliot's withering regime, grown professionals become despondent and distracted, stumbling over the simplest commands. This video includes a reflection by Elliot upon how the simple classroom exercise she devised for her rural Iowa elementary school children the day after Dr. Martin Luther King Jr's assassination has transformed her life. Facilitator's guide included. 86 min (30 min version available), 1995, California Newsreel. HS
 Brother Outsider: The Life of Bayard Rustin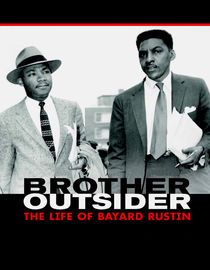 This hour-long portrait unfolds both chronologically and thematically, using interviews and traditional documentary techniques, as well as experimental approaches. Though Bayard Rustin did not keep a journal, the film uses his first-person voice wherever possible, gleaned from his extensive writings, papers and personal correspondence, and numerous recorded interviews. Brother Outsider creates an aesthetic that reflects Rustin's position as an outsider, a troublemaker, and an eloquent speaker who refused to be silenced. "Brother Outsider illuminates as never before Rustin's fascinating public career and his equally intriguing private life. It is a film worthy of his valuable legacy."—Clayborne Carson, Stanford University. 83 min., 2003, Sam Pollard. HS
Chicano! History of the Mexican American Civil Rights Movement

Ground-breaking for the material it covers, the series is one of the few to address the history of Mexican Americans in general and that of the Chicano Movement in particular. It begins in New Mexico with Reies López Tijerina and the land grant movement, is picked up by Rodolfo "Corky" Gonzales in Denver who defines the meaning of Chicano through his epic poem I am Joaquin, embraces César Chávez and the farm workers, turns to the struggles of the urban youth, and culminates in growing political awareness and participation with La Raza Unida Party. 4 tapes, 60 minute tape, 1996, NLCC Educational Media. HS
Chisholm '72: Unbought & Unbossed
Featuring stirring archival footage, period music, interviews with supporters, opponents and observers, and Chisholm's own commentary — then and now — Chisholm '72 is a remarkable recollection of a campaign that broke new ground in politics, and truly reached out to 'the people.' Among those interviewed are author/activist Amiri Baraka (then known as LeRoi Jones), Black Panther founder Bobby Seale, authors Susan Brownmiller and Octavia Butler, former Congressmen Reverend Walter Fauntroy and Ronald Dellums, and journalist/historian Paula Giddings. (description from film website)
Crisis in the Classroom: Little Rock and Boston
In Little Rock, Arkansas in 1957, Governor Faubus did everything in his power to prevent nine black children from entering a formerly all-white school. The Eisenhower administration insured that the Supreme Court's order mandating school desegregation was enforced. Learn about a similar segregation incident that happened in Boston. A&E examines these two famous examples of the long battle over school desegregation through extensive footage and interviews. 50 min, 1994, 20th Century Mike Wallace Series. MS/HS
El Norte

Tells the story of a brother and sister forced to flee their country of Guatemala where their father has dared to challenge the repressive landowners. Provides insights into the challenges faced by many Central American immigrants as they travel north and try to survive in the United States. 140 min. HS
Ethnic Notions

This classic documentary traces the evolution of deeply rooted stereotypes about African-American women and men that have fueled anti-Black prejudice and hatred. The history of the development of the major figures—faithful Mammy, loyal Toms, carefree Sambo, male dominating Saphire, leering Coon, and wide-eyed Pickaninny—that have permeated U.S. popular culture from the antebellum period to the Civil Rights era is presented, with a sharp economic and political analysis and commentary about the far reaching consequences of such stereotyping. 56 min., 1987, California Newsreel.
 Eyes on the Prize : Series I—America's Civil Rights Years 1954-1965
Documents the Movement from the Montgomery Bus Boycott to the Voting Rights Act

This ground breaking and award winning PBS series offers six hours of detailed history of many pivotal events in the Civil Rights Movement.  It is an excellent classroom resource for the classroom.  Below is a list of the six different films and the topics they cover:
Awakenings 1954-1956: Emmett Till's murder and the Montgomery Bus Boycott
Fighting Back 1957-1962: Little Rock Central High School and the James Meredith case.
Ain't Scared of Your Jails 1960-1961: The SNCC led sit-in movement and the CORE led Freedom Rides.
No Easy Walk 1961-1963: Mass demonstrations in Albany, Georgia, and Birmingham, Alabama and the March on Washington, D.C.
Mississippi: Is This America? 1962-1964: White resistance to Civil Rights in Mississipi and Black engagement in the political process.
Bridge to Freedom 1965: The march from Selma to Montgomery, Alabama.
Total time 6 hours, 1987, PBS, Blackside Inc.
 Eyes on the Prize II: America at the Racial Crossroads 1965-mid 1980s
The Time Has Come (1964-1966) Malcom X and the Nation of Islam and the Student Nonviolent Coordinating Committee (SNCC) turns the call for "Freedom Now!" into one for "Black Power!"
Two Societies (1965-1968): The Movement comes north. Martin Luther King and the Chicago Freedom Movement and riots in Detroit.
Power! (1966-1968): Carl Stokes in Cleveland, the Black Panthers, and Brooklyn parents taking over the schools.
The Promised Land (1967-1968): This charts Martin Luther King's often overlooked final year.
Ain't Gonna Shuffle No More (1964-1972): Cassius Clay (a.k.a. Muhammad Ali), the campus of Howard University in Washington, D.C., and at the National Black Political Convention in Gary, Indiana.
A Nation of Law? (1968-71): The killing of two Black Panther leaders in Chicago and the rebellion at New York's Attica state prison that left 43 dead.
The Keys to the Kingdom (1974-80): Desegregation in Boston and Affirmative Action in Atlanta.
Back to the Movement (1979-mid 80s): Miami Liberty City riots and Harold Washington in Chicago.
Total time 8 hours, 1990, PBS. Blackside.